Published At: 2010-08-29 01:03 -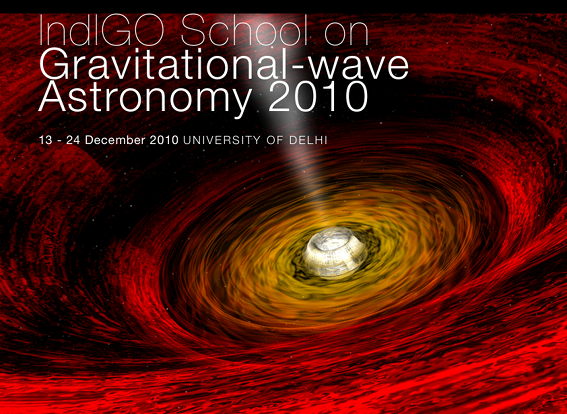 13 - 24 December 2010
University of Delhi


Applications
The deadline for application has been extended. Please e-mail your CV and a short write-up describing your particular interest in the school to
isgwa2010 at gw-indigo.org
. Arrange two letters of recommendation to be directly e-mailed.
E-mail: isgwa2010 at gw-indigo.org__
New deadline: 5 September 2010


Lecturers:
B. Sathyaprakash (Cardiff University, UK)
Alan Weinstein (Caltech, USA)
A. Gopakumar (TIFR, Mumbai)
Sanjay Jhingan (Jamia Milia, Delhi)
K. G. Arun (CMI, Chennai)
Archana Pai (IISER, Thiruvananthapuram)
Anand Sengupta (University of Delhi)
Rajesh K. Nayak (IISER, Kolkatha)
Sanjeev Dhuranduar (IUCAA, Pune)
P. Ajith (Caltech, USA)
C. S. Unnikrishnan (TIFR, Mumbai)
G. Rajalakshmi (TIFR, Mumbai)
Sanjit Mitra (Caltech, USA. TBC)
Suresh Doravari (Caltech, USA)
Topics covered:

Morning sessions will be dedicated for lectures and afternoon sessions will be dedicated for tutorials and hands-on training.


Theory and source modelling:
Brief introduction to General Relativity.
Relativistic wave equation.
Overview of the sources of gravitational waves.
Computation of gravitational waves from terrestrial sources and for astrophysical sources.
Data analysis:
Introduction to noise, Fourier transform, cross correlation, signal to ratio.
Decision making problem and filtering. Introduction to matched filter.
Data-analysis methods for the detection of gravitational waves from different astrophysical sources.
Data analysis for compact binaries. Overlaps, fitting factor, template placement.
Gravitational-wave astronomy using a network of detectors.
State-of-the-art of gravitational-wave astronomy.
Instrument science:
Interaction between gravitational wave and free material particles.
Interaction of gravitational waves with bulk matter with finite elasticity.
Methods of detecting gravitational waves: Bulk matter detectors, free mass detectors.
Extraction of signals: Resonant bulk matter detectors, Interferometry.
Review of resonant-mass detectors.
Response of suspended mirrors to seismic vibrations, external forces and gravitational waves.
Optical interferometer as a GW detector.
Noise and signal in Interferometric GW detectors. Thermal, radiation and quantum noise
Consolidated concluding lecture: The real GW detector: operation, signal extraction and control
Public lecture

"Listening to the symphony of black holes"
B. S. Sathyaprakash, Cardiff University, UK.


Local organizers
T. R. Seshadri (University of Delhi): seshadri.t AT gmail.com
Anand Sengupta (University of Delhi): anand.sengupta AT gmail.com